Jeffrey grew up in the United States and now works for AXA Philippines. He regularly participates, as many of our employees do around the world, in solidarity actions on the field. These actions, organized by the AXA Hearts in Action network, enable employees to help local populations and to have a particularly rewarding human experience. For Jeffrey, volunteering allows him to realize how small actions can have a positive impact on community and give more meaning to his life.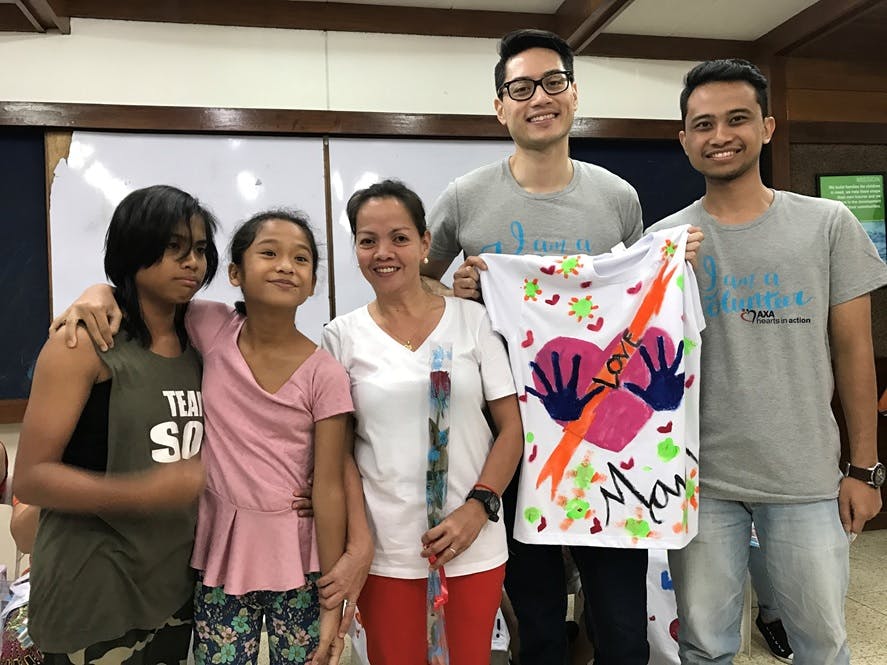 Having grown up in the US, AXA's Investment Director for Finance Jeffrey Mendez was not exposed to the conditions of Philippine society. "When you work in an office in Makati (suburbs of Manila), you don't really see the different standards of living," he says. While he is not new to volunteering, he describes his participation back in the US as obligatory. "I have never had a deep dive into a particular course or path when I was volunteering back then."
With AXA Philippines, he has already joined several weekend activities: a storytelling program with children, a visit to Tahanang Walang Hagdan, and a classroom cleanup drive where he helped paint chairs and desks.
The activity that struck him most was their group visit to a foundation where house mothers would look after abandoned children. "The surrogate mothers dedicate their lives in what can sometimes be a thankless job. Aside from their own families, they care for about 10 to 13 children, kids who can easily fall through the cracks without their help." Their visit allowed the house mothers to enjoy a break. "The kids don't always express their appreciation, but when they do, it is an emotional experience," he describes.
He was at first hesitant to meet with the children at the storytelling activity (he says his Filipino is not so good). "Then I saw how friendly and happy they were at that small moment in their lives. They have an optimistic view of the world, something that we should be able to emulate in our own lives." 
Even as an active volunteer, Jeff feels like he is not even doing enough. "The realizations have given me an enormous sense of guilt sometimes, when you think about how much you could be doing to touch other people's lives," he reveals. "These activities that are supported by AXA give me a clearer perspective, helping me build a long-term goal, figure out where I will be contributing and participating in helping to build a better community, both in AXA and the people I surround myself with." 
He wants to be more active in being able to pay it forward, where he wants to be able to mentor people. "It is about finding capable people who, due to their circumstances, are not able to succeed but have a hunger to improve their life. While it is definitely important to give more people the basics my advocacy would be focusing on getting people and accelerating them based on their potentials."    
There is value in giving back, Jeff emphasizes. "Volunteering at AXA Hearts in Action is overall very rewarding. It adds to the collaborative environment of the company and gives a sense of perspective to what you are doing, with AXA's mission of making people's lives better. It ties it all in."