Antonio, Daniele, Marco, Vincenzo, and Vittorio are ambitious students from Salvo D'Acquisto high school in Bagheria, a town with a population of 55,000 people on the Island of Sicily, Italy. While Bagheria is not far from the coastal beaches, cliffs and the vast natural beauty that is the Mediterranean Sea, Sicily, like much of Southern Italy, has suffered from waste management problems over the years, with trash often piling up along roads and in parks.
Frustrated by the impact of waste on their lives and struck by the observation that young people weren't doing enough to protect the environment, the students wanted to find a way to encourage their peers all over Italy to have a different approach to waste. So, when these motivated teenagers were given the opportunity to design their own innovative project, they courageously took on the challenge of creating a product that could show their friends what could be done with an otherwise useless piece of trash.
And so, while Bagheria might initially seem like an unlikely place for an exciting innovation to emerge, these energized students have designed, with the help of Junior Achievement's entrepreneurial education program and now, the support of AXA, a machine that could inspire young people to recycle, reuse, and participate actively in the circular economy.
Creating a Proactive Generation
Picture yourself at a concert, in a park, or even at a festival. There are lots of empty plastic bottles lying around and, instead of having to pick them up and place them in a trash can, where they will be taken to landfill or pollute the oceans, you're able to bring them to a vending machine, place them into a collection bin, and watch them be ground into plastic pellets, melted down into plastic thread, and then 3D printed into your next phone case.
This experience is now possible due to Antonio, Daniele, Marco, Vincenzo, and Vittorio's "MyProGeneration" vending machine. The name comes from a desire to promote "proactiveness" and wanting young people to be "in favor of something, in favor of the environment." Inspired by fab labs and the boom in 3D printing technology, the students believe that the futuristic experience offered by their vending machine could get young people imagining the different ways that they can reuse waste.
The vending machine's design came about in 2015, when the students were given the chance to participate in Junior Achievement's Biz Factory competition, which brings together over 6,000 students, aged 16 to 19, from across Italy, to award creativeness and entrepreneurial spirit in high schools. Optimistic about the change in attitude that they could inspire among other young people, the five teenagers all made their way to the BizFactory finals in Milan. There, they managed to impress AXA Italia with their vending machine's responsible use of technology and its potential to have a positive social impact which granted them the AXA Italia Social Impact Award. The journey ended up being seriously worth it, as all five of them were invited to spend a week in Paris to meet the team of experts from AXA Strategic Ventures and AXA's Research Fund: two of AXA's positive initiatives that aim to improve society and the environment through applied innovation and research.
Antonio, Daniele, Marco, Vincenzo, and Vittorio recieving the AXA Italia Social Impact Award in June 2015
Young People are the Future of Positive Change
When interviewed at AXA headquarters on their first day in Paris, the students were exhausted after a long day of inspirational encounters. They had meetings with the likes of Cécile Wendling, Head of R&D and Simon Clow, Group Head of Stakeholder Engagement, who shared their expertise in positive innovation. But, despite it being late in the evening, all the students were modest, humble, and happy to speak about their experiences, their motivations, and the future of environmental sustainability. They expressed their excitement about having the opportunity to grow their capacities, develop their project, and increase their ability to inspire through interactions with AXA's team of experts. "We hope to learn more about business and entrepreneurship so we can develop our project and bring people closer to recycling", they said.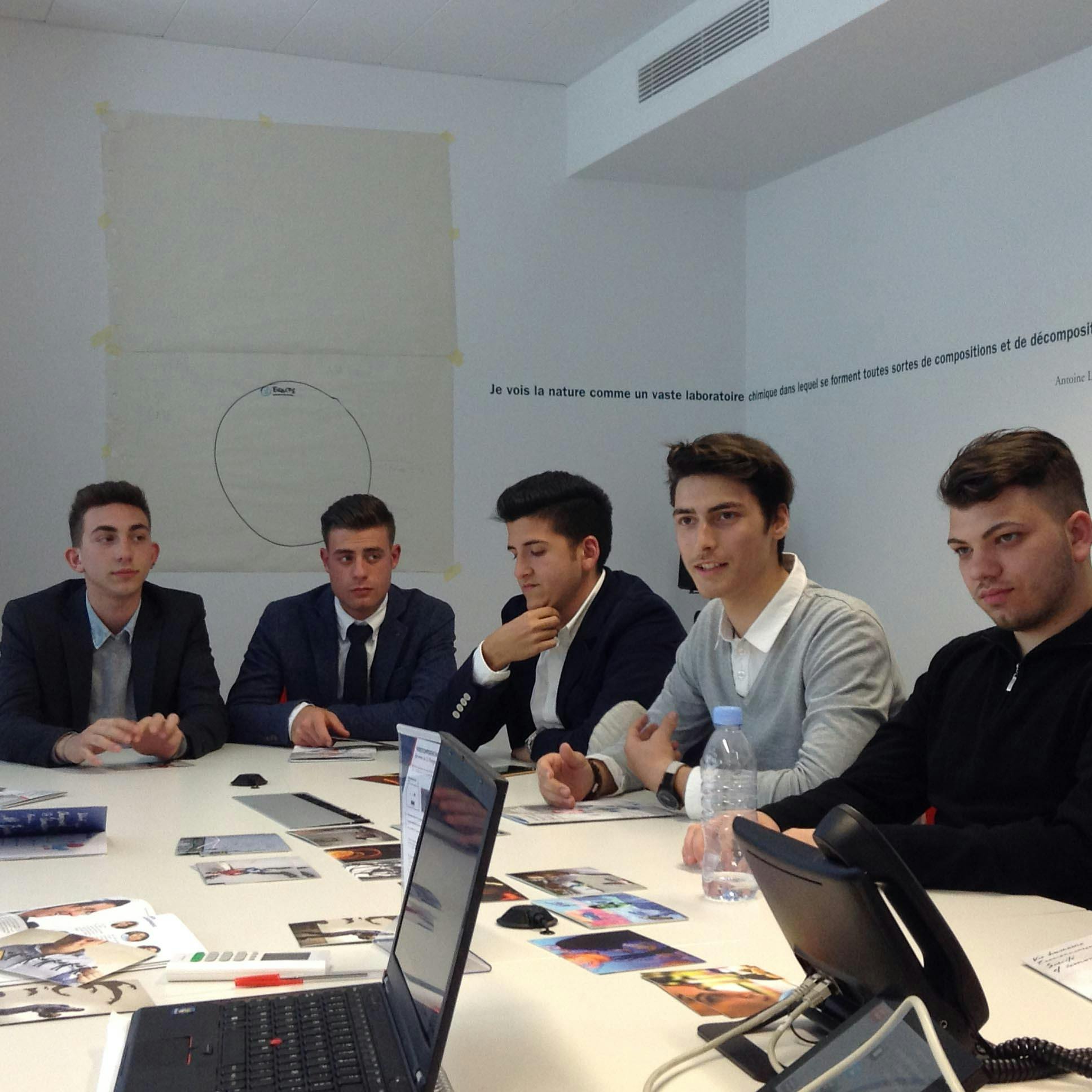 While they also shared their disillusionment that young people are not involved enough in the creation of a sustainable future, they are hoping that the support the MyProGeneration vending machine is receiving from AXA, can contribute to growing awareness and proactiveness among their peers. "We need to raise awareness because young people are the future and so we need to have an important role in improving the world that we all share" they explained. In achieving that goal, they see innovative products like theirs, as key. "Innovation is helping us improve the environment in Sicily, in Italy, and the world, so it is vital in the development of sustainability," they said.