Green IT : towards a green (r)evolution
Move the world forward
Dec 14, 2017
In fact, every electron produced passes through thousands of kilometres of cable between the power plants and the destination. Each computer is the result of almost 2 tons (!) of raw materials. These tools are the result of complex, very greedy mechanisms in energy and raw materials. And it is these tools that we use to make our operations efficient and drive profitability.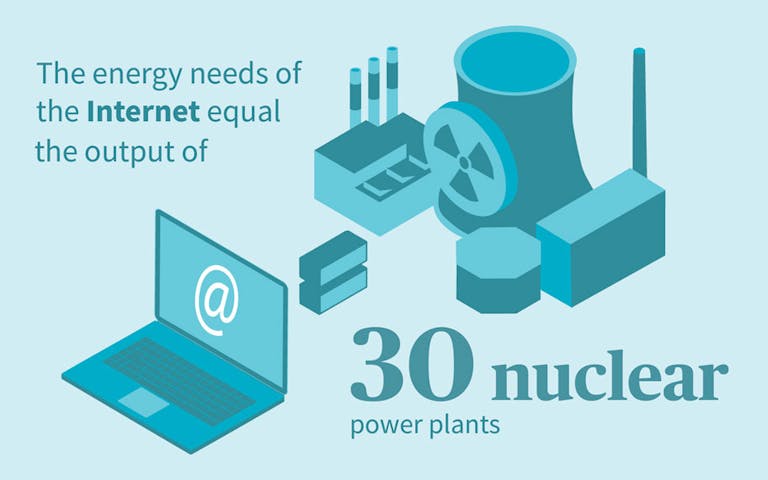 Related content
AXA launches new climate change actions
Our company has put strict rules and regulations in place to really take part in the fight against climate change. For example, we have committed ourselves to using 100% electricity from renewable sources between now and 2025. This is already the case for several data centres in Switzerland and in Germany. To achieve the target fixed, we have managed to get our concerned entities to agree on deadlines. The process is simple. We contact them and tell them: "Right, this is your current consumption, we believe that you can reduce your CO2 emissions, so how do you feel about using solar, wind or hydroelectric energy?" We analyse the situation together and then proceed to make the most relevant choice possible, depending on the reliability of various sources of energy available on the local market. This is just one of the many ways we use to reduce the environmental impact of the company as a whole. We also make sure we optimize the lifecycle of our computer equipment and recycling, thus abiding by the rules for waste electronic and electrical equipment (WEEE).
We now limit our consumption of water by equipping buildings with special sensors and we have changed our policies with regards printing and paper supply. 95% of our paper now comes from sustainable and recycled sources.